Hello my fellow Tripawds!
Just taking a few moments to stop in and say hi, Hoppy New Year!!  We have been really busy here in New Jersey.  Mommy and Daddy got engaged over the Christmas holidays while visiting my Grandma.  Mind you,  they LEFT ME ALL ALONE at home.  Yes, Auntie Barbara came by every day to take care of me, but still… only Mommy can scritch that special place on my head that I can't reach anymore.  She is trying to train Daddy to do it since she does have to go away on business trips sometimes.  He is okayyyyy but Mommy has those fancy strong nails that she gets every 3 weeks so they feel REALLY good.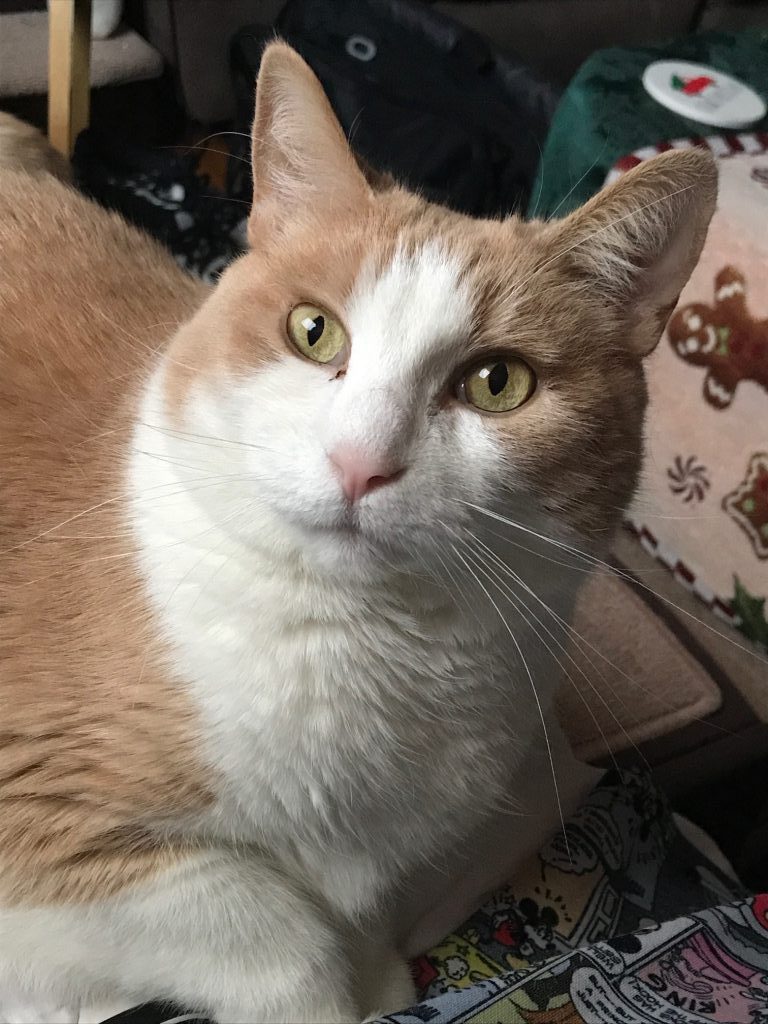 So what have I been up too? Still on nightly mouse patrol, not catching anything yet, but I will!  It has been really cold outside so those pesky mice will try to sneak in… I will be ready!  When not on patrol, I love sleeping in Mommy's spot on the big bed.  She will move over for me.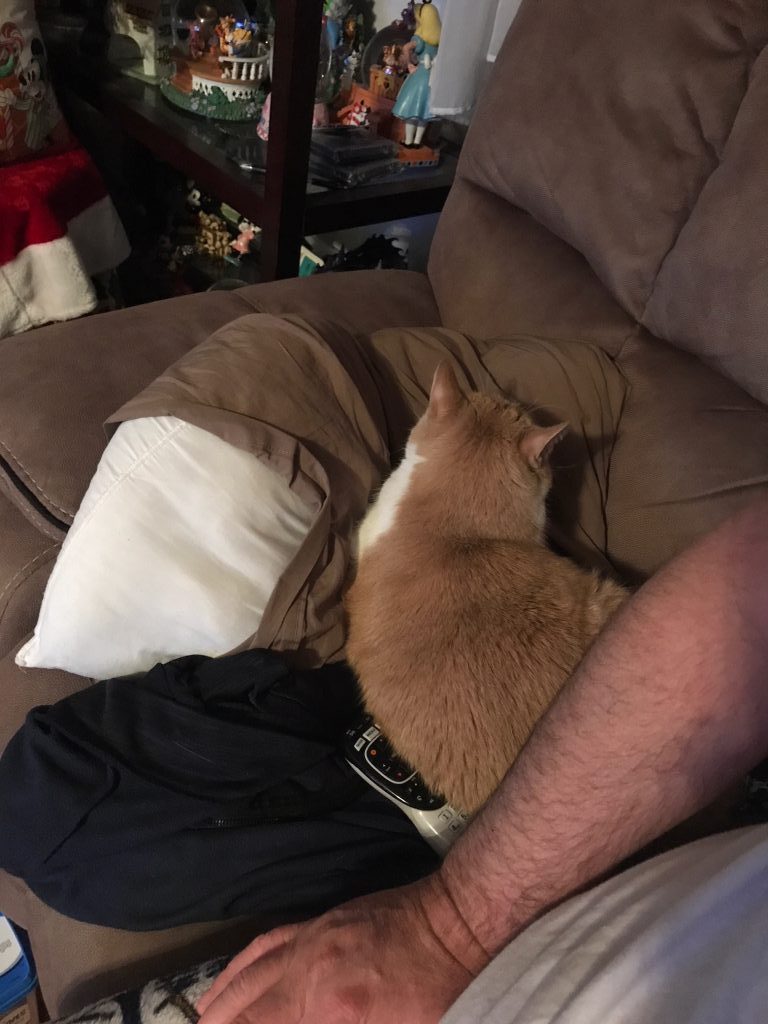 My latest pastime is taking Daddy's spot on the couch when he gets up to get something from the kitchen.  Look at my technique.  I lay on his sweatshirt, pillow and remote control all at the same time.  The key is DON'T MAKE EYE CONTACT.  He has tried to talk to me about this but I ignore him.  He will eventually give me treats anyway.
Mommy is the queen of Christmas, putting  trees up in every room.  With 14 trees ranging  from 1 foot to 7 feet, can you believe she managed to keep them out of my reach?!  The nerve!  I keep trying to chew them and can't reach!  Yes, she still has them up.  Christmas lasts in this house until March usually so I still have time.
In trying to get to the trees, I have been crawling across Mommy or Daddy's laps.  Sometimes I forget to move off their laps.  It's not bad!  I never did this before.  Mommy says I am becoming a little cuddle bug.  I don't know if I like that.  I eat bugs!
It's been a few months since I saw Dr. Scott.  I will be due for a check up soon in March, Mommy says.
Mommy will check out everyone's blog and let me know how my Tripawd buddies are doing.
Head Scritches and Sandpaper Kisses,
Rusty the Bunnyman
and his loyal Scribe, Mommy Gina (and Daddy Nick)