Hi everyone!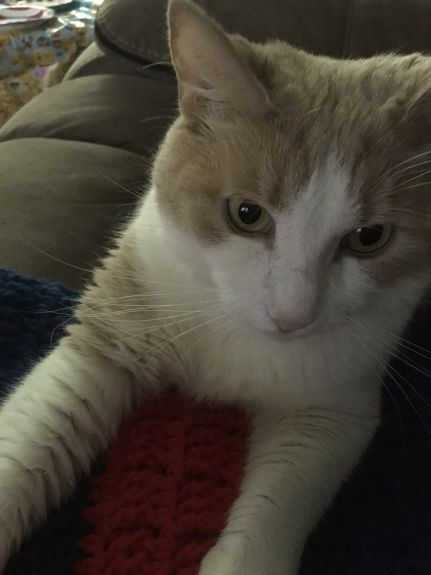 As I just hopped over the nine month anniversary of my amputation, boy do I need a nap!
I have been doing SO MANY things as a tripawd.  Mommy doesn't let me go outside so I have to watch all of my bird and squirrel friends through Cat TV.  Now that it is finally warm here in New Jersey, this can go on for hours!  Mommy and Daddy even put a bowl of peanuts outside the TV (door) to get them to come closer to me. Here is a 16 sec video of me Squirrel Watching.
I still go on mouse patrol although I haven't caught any other mice since my 7 month anniversary.  They are all scared of me now!  They KNOW better and stay out of MY house!
I have started doing something else new this month too and scaring Mommy every single time I do it… Remember how I told you about my favorite window spot in her bedroom?  Welllllll… Mommy and Daddy have had my stairs there since my surgery and I still love hanging out there.  (I have about 7 sets of stairs throughout the house going to beds, couches, chairs, windows… you get the picture).  But you know what is only about 18 inches away from that spot? MOMMY's BED!
For the past 8 months, I would walk down the window stairs and then hop back up the bed stairs to lay there.  Do you know how much extra energy that takes? Up and down and up and down… Geesh… They never told me about the shortcut!!!  If I JUMP from the window perch to the bed, I am RIGHT THERE! OMG! Mommy said something about me missing the jump when I had four legs.  How many times do I have to remind her that I am now a Super Tripawd and just relax..
What else have I been up to?  I stole a magnet off the fridge that Mommy bought when she was away from me in Argentina for work.  I know she must have bought it for me, why else would she get it?  I put it in my rocket ship (a clear plastic storage bin that nobody can see me in when I lay in it.  It is great for sneak attacks when they walk by…) and play with it a lot.  I still entertain Daddy when he plays with the squeaky mouse on a string.  I now play with any guests we have and bravely lay in the middle of the room they hang out in.
So you can see why I am so tired!  Nightly patrols, new jumping aerobics, visits with hoomins, birds, squirrels, rocket ships, entertaining Daddy… figuring out what I can do next…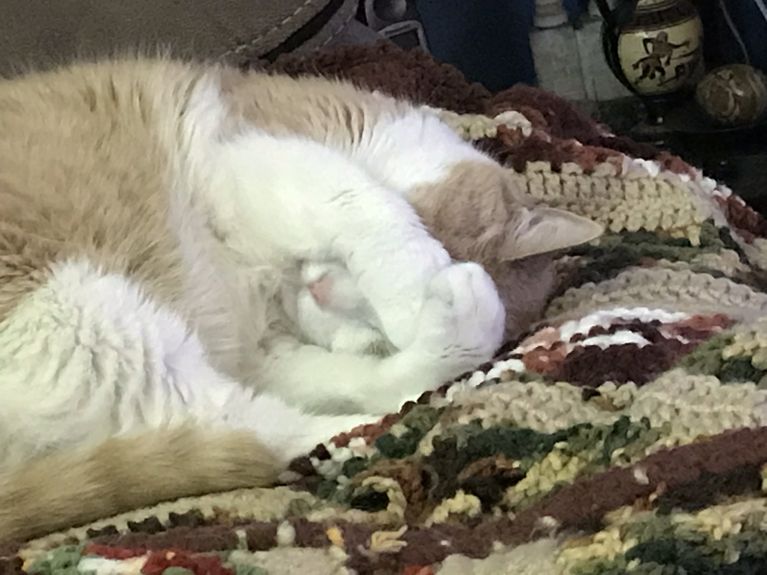 This Tripawd is busy!!
By the way, Mommy says I am doing so well that the next time I have to see that Dr. Scott guy is still September.  He's nice but I hate the car ride going there so that is purrfectly fine by me.  Until then, I will keep getting stronger and showing the world what we tripawds can do!
With Purrs and Sandpaper Kisses,
Rusty the Bunnyman, Extraordinaire!